KTHOPEN - network for public areas at KTH campus.
updated 2014-12-08

Background
KTH main campus offers a network in public areas; lecture rooms, student areas etc. There are both wired (outlets) and wireless connections available. The network is also implemented in Kista, Haninge and Södertälje.

Basic functions
The network is accessible only if you have a KTH identity (or come from another eduroam university), i.e. you have to login to use the network.

The normal network is called KTHOPEN and is a "captive portal", that is when you connect to the network you get an IP-address - but to use the network you have to login. When you start a web-client (Internet Explorer, Firefox etc) you will be forced to the login page.

For the wireless net an alternative for more frequent users is to use eduroam (WPA login) (see this info for explanation) to get automatic login. This requires a bit more initial configuration to setup but after that the computer will log you in automatically. This also works automatically if you go to another university participating in the eduroam system. If you are a guest from an other eduroam university login should be automatic.
KTHOPEN availability.
The network is available in many areas now and will be extended gradually. The map below shows the places on the main city campus. In Kista, most of Electrum should be covered. [PDF version]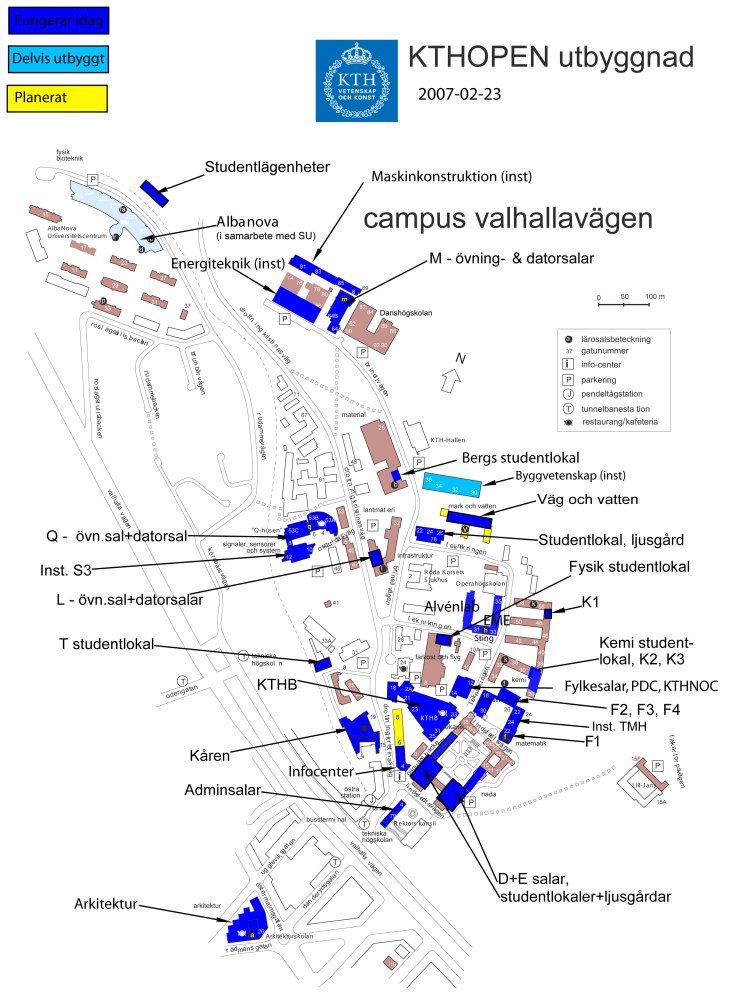 Technical info

Short checklist for the connection and some testing info.

NOTE: If you have an eduroam account and your computer is configured to use it, you will be automatically connected.

(for wireless) Check that your computer is seeing the wireless network "KTHOPEN"

Check that you have an ipnumber (130.229.x.y).
Your computer should be set to automatic address allocation. (DHCP).

Your nameservers also should be set to automatic (from the net)!
Your nameserver should be automatically set to 130.237.72.z

If you have a personal firewall, it must allow ICMP echo (ping)
Try going to any website.
If this fails: try to ping your router. To find out your router:
WinXP:Do "ipconfig" in CMD-window and look for "default gateway" or click STATUS then support on your net connection
MacOSX: Check "network" in your system preferences. Choose [advanced] and then [TCP/IP], look for "router"
If you can't do this there is something wrong.
You can login with your KTH username (e.g. foo@kth.se) and network secret.

More info (in swedish)

_________________

For questions : it-support@kth.se

[KTHLAN home page]